×
Signed in successfully.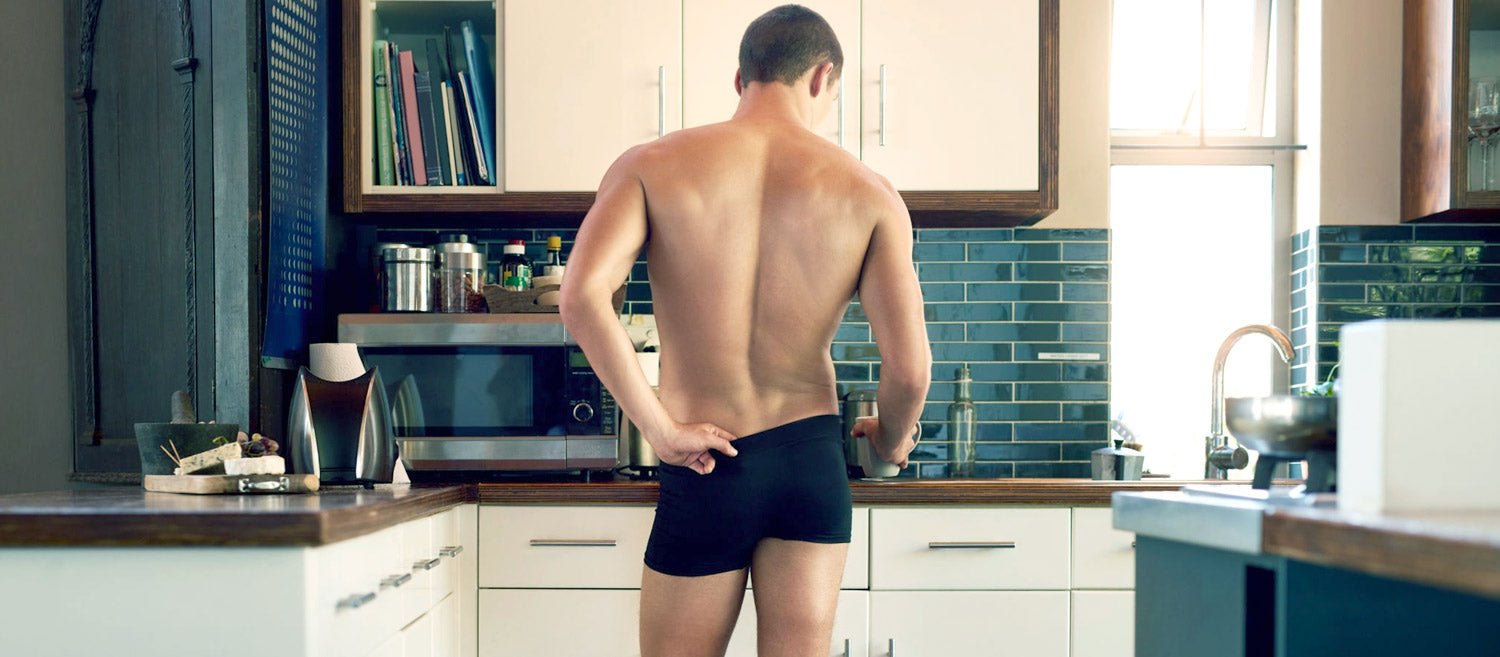 09.14.2021
Men's Underwear Types: The Ultimate Guide
If you've recently explored the men's underwear section to find the ideal pair, you may have felt overwhelmed by the number of styles that are available to choose from. If so, you're not alone. Today, there are more men's underwear types than ever before – so many, in fact, that we created a comprehensive guide to help you understand each one.
This guide will describe each category and sub-category of men's underwear, explaining the pros and cons of each style as well as what activities they were made for. We'll even help you decide what bottoms to pair them with!
What's the Best Underwear for Men?
With so many men's underwear styles on the market, the art of how to choose underwear may have you scratching your head. Don't panic – the best underwear for men is whatever best fits your own lifestyle.
Do you prioritize comfort or appearance? Breathability or snug fit? Do you prefer minimal coverage or total coverage? It's okay if you don't know the answers to these questions yet. As you explore this guide, pay attention to what speaks to you and what doesn't, and you'll have the perfect pair in no time.
10 Men's Underwear Types
We've separated 10 types of men's underwear into the following categories:
Briefs

Boxers

Long Underwear

Sports Underwear

Cheeky Underwear
If you already know what category you're interested in, feel free to skip right down. Happy hunting!
Briefs
While men's briefs used to be dominated by the infamous "tighty whities," today they are perhaps the most diverse category of men's underwear, boasting several different styles and variations.
1. Boxer Briefs
Since their introduction in the 1990s, boxer briefs have quickly become supremely popular among men of all ages. While the fabric used in their design varies from brand to brand, they tend to include a comfy blend of cotton and spandex. They come in low-, mid- and high-rise lengths, each of which have their own ideal bottoms to match:
Low-rise brief:
Wear them with: Shorts, low-rise jeans, workout pants
Coverage level: Moderate-slight coverage, moderate-full thigh exposure
Best for: Everyday wear, working out
Mid-rise brief:
Wear them with: Jeans, dress pants, board shorts
Coverage level: Moderate coverage, some thigh exposure
Best for: Everyday wear
High-rise brief:
Wear them with: High-waisted pants
Coverage level: Full coverage
Best for: Everyday wear
Our Second Skin boxer briefs demonstrate the stylistic versatility of the boxer brief, available with both 6 and 8 inch inseams depending on your preferred fit.
2. Trunks
Trunks are essentially a cross between a brief and a boxer brief. They are very similar to boxer briefs in style, though they tend to be more square-cut and lack the heap of fabric that boxer briefs have. Trunks have been gaining increasing popularity over boxer briefs as a result of their comfort and versatility.
Our Cool Cotton Trunk boasts not only the stylishness of the square-cut design, but also supreme breathability to keep you cool and comfortable. 
Wear them with: Shorts, casual wear
Coverage level: Moderate coverage, some thigh exposure
Best for: Long days at a desk, warmer weather
3. Micro Brief
If you're looking for a little extra exposure and flair, the micro brief might be for you. Also known as the male bikini or the European brief, the micro brief's side seam is about an inch deep or less.
Wear them with: Shorts, casual wear
Coverage level: Slight coverage, significant thigh exposure
Best for: Casual activities, warmer weather
4. Hipster (Square-Cut) Brief
The hipster brief, also known as the square-cut brief, is very similar in style to men's trunks. It offers a modern, low-rise look and is great for men looking for something more stylish and sexy. Since it's more high-riding, you may want to invest in a hipster brief made of a particularly comfortable material for daily use, such as our second skin.
Our 2-inch Square Cut brief demonstrates just how alluring and comfortable the hipster brief can be.
Wear them with: Shorts, casual wear
Coverage level: Slight coverage, moderate thigh exposure
Best for: Casual activities, warmer weather
Boxers
Boxers are one of the most classic styles of men's underwear. As opposed to briefs, they tend to be made of a stiffer fabric and include a balloon seat, or a section of loose fabric at the back of the underwear that provides space for the wearer's buttocks. While briefs stretch, boxers provide extra space with their balloon seat design. Boxers also often come with highly elastic waistbands.
5. Boxer Shorts
Boxer shorts are probably the first image that comes to your mind when you think of the word "boxers." While they peaked in popularity back in the 1920s, they've made a comeback in recent years not only because of how affordable they often are, but also because of their breathability and relaxed fit.
That said, boxer shorts aren't very snug, so you may want to pursue other options if you're looking for something that offers more support.
Wear them with: Long pants (casual or dressy), longer shorts
Coverage level: Full coverage
Best for: Lounging, light activity
Long Underwear
Whether you live in a region prone to freezing temperatures or are just planning a trip to the mountains, you may want to invest in some long underwear. While most underwear styles are quite versatile, long underwear tends to be strictly used in cooler climates, offering extra warmth and coverage.
6. Long Johns
Commonly used by men who work outdoors in the cold, long johns are a classic for anyone who needs an extra thermal layer. This style of underwear has even been repurposed in recent years to serve as loungewear. Since it's sold quite seasonally, you'll want to grab yours as soon as the weather starts to cool down.
Wear them with: Warm long pants, ski pants, jeans
Coverage level: Full coverage
Best for: Cold weather, mountain sports, lounging
Sports Underwear
If you're looking for something comfortable and supportive that's great for running, working out and playing sports, you may want to invest in some sports underwear. As you'll see, these styles vary drastically in appearance, but they were all designed with an active wearer in mind.
7. Hammock Pouch Briefs
Have you ever wondered if you should try the increasingly popular hammock pouch? If sport leggings provide too much coverage for your taste but you still want extra breathability and support, hammock pouch briefs are for you. With a style similar to boxer briefs, these sport briefs are designed for maximum comfort when exercising, preventing chafing, sticking or swinging as you move. 
Wear them with: Sport shorts, sweatpants
Coverage level: Full coverage
Best for: Working out, playing sports, hiking, high-intensity activities
8. Jockstraps
Originally used for biking and other high-intensity sports to keep genitals cool, dry and tightly supported, the jockstrap has become a popular underwear type for activity and style alike. It's similar in appearance to the tanga brief on the front and sides, but with total exposure in the back (aside from buttock straps) for maximum breathability.
Wear them with: Tight compression shorts
Coverage level: Minimal coverage, total buttock and thigh exposure
Best for: Biking, playing sports, high-intensity activities
Men's Cheeky Underwear
While options for men's cheeky underwear may be less commonly known than options for women's panties and types of bras, there are certainly playful styles available for men to try out! If you're exploring men's sexy underwear options, consider the styles below.
9. G-Strings
G-strings or thongs are basically as close as you can get to going "commando" while still wearing underwear. They are designed with a thin piece of fabric that connects the front pouch to the back of the waistband up the middle of the buttocks. If you want maximum breathability, a G-string may be right for you!
Wear them with: Casual shorts and pants
Coverage level: Minimal coverage, total buttock and thigh exposure
Best for: Everyday wear
10. Cheeky Briefs
For a little extra "cheek" exposure, consider a pair of cheeky briefs. They're designed like classic men's briefs but with less fabric on the lower back side – a great halfway point between briefs and a G-string.
Wear them with: Casual shorts and pants
Coverage level: Minimal coverage, full thigh and some buttock exposure
Best for: Everyday wear
Best Material For Men's Underwear
Men's underwear comes in all types of fabrics, each of which offers its own benefits. We've reinvented common fabrics, designing underwear that's as lightweight, breathable and versatile as possible to help men feel their very best at all times.
Cool Cotton
For a breathable, fast-drying material that's perfect for everyday use, check out our Cool Cotton collection. Made with Pima Cotton, this fabric will keep you feeling 2-3x cooler than regular cotton on warm summer days.
Second Skin
As the name suggests, our Second Skin collection is designed to feel like it was made to be on your skin. It's soft, smooth, and made from a non-pilling micro modal fabric. You also don't have to worry about your underwear getting bunched up, as it's designed to stay put throughout the day.
Air Collection
Take advantage of maximum breathability and comfort with our Air Collection. Not only is it as light as underwear fabric can be, but it's also fast-drying and anti-microbial. This breathable underwear just about as close a feeling to going commando as you can get!
360 Sport
For a material that won't ride up as you work out yet still provides necessary support for movement, try on our 360 stretch fabric. In addition to offering mesh cooling zones, this collection prevents chafing and rubbing no matter how much you move. As important as it is to thoroughly wash your underwear, our anti-microbial technology will keep you from smelling while you finish your workout.
Men's Underwear: FAQs
Hopefully, this guide has demonstrated that men's underwear is pretty diverse in style. Having some questions after taking in all this information is to be expected. Let's dive into some frequently asked questions so that you can slip into the best pair for you!
What are Men's Underwear Cuts?
Men's underwear cuts are another way of phrasing men's underwear types. There are several different underwear cuts (as you can see above), the most popular being:
Briefs
Boxers
Boxer briefs
Trunks
How to Choose Men's Underwear Size?
For the best fit possible, we recommend checking out our underwear size chart, which includes detailed steps for how to measure yourself.
What Is the Flap in Men's Underwear For?
People frequently ask, "what is the hole in men's underwear for? And what's it called?" The hole in your boxers is technically called a fly, but it has also been given nicknames such as the "air hole" and the "pee hole."
Essentially, the flap in men's underwear provides men with extra crotch space, breathability and accessibility to use the restroom, eliminating the need to untuck and re-tuck a shirt.
How to Wear Men's Underwear Properly?
How men wear their underwear largely depends on personal preference, but it also depends on the type of underwear worn. High-waisted briefs, for example, should be worn as the name indicates – high on your waist.
Chances are, you'll want to avoid underwear that's too small or tight, underwear that lacks good airflow and underwear that allows for too much contact, which could result in chafing. Ultimately, what's most important is that you wear your underwear in whatever way feels most comfortable.
After learning so much about men's underwear styles, you're probably itching to find your next pair. Refresh yourself on our fabric guide and start exploring the best underwear for your lifestyle.
To help move your search along, remember to check out Tommy John's wide variety of boxer briefs, trunks and square-cut briefs below.