×
Signed in successfully.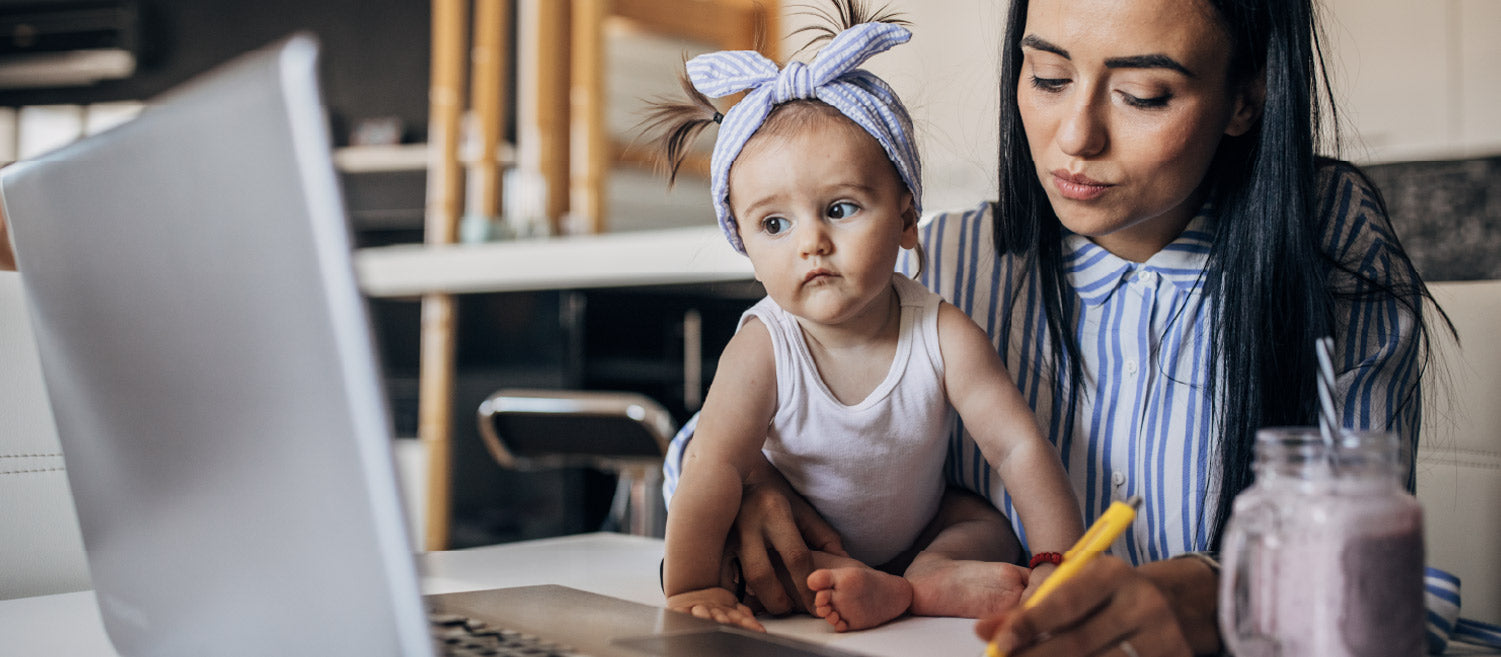 04.09.2021
20 Self-Care Ideas for Supermoms
Moms have been required to wear many hats while balancing working and motherhood and the pandemic has only increased this. In the blink of an eye, they have stepped up as teachers, essential workers and caregivers all for the good of their family. Unfortunately, this kind of heroism doesn't come without consequences as many moms succumb to burnout as time and pressures roll on. 
Stress and exhaustion can take a toll on everyone however, oftentimes, moms will deprioritize their own needs, which can jeopardize their physical and mental health. 
The Truth About Mom Guilt Kryptonite
Due to the recent influx in duties, many moms have been experiencing "mom guilt" often described as that feeling of not doing enough as a parent. Mom guilt can act as kryptonite by discouraging them from taking necessary time for themselves. 
Moms are Superheroes 


Moms have transformed into superheroes by learning to balance working from home, assisting with virtual learning and keeping their homes running smoothly. 95% of moms are multitasking for an average of nearly 8 hours a day which means moms are squeezing in at least a whole extra day's work every single day. Half of moms have seen their workloads increase overnight and to balance it all, they put their own needs on the backburner. 
This Mother's Day we get the special opportunity to thank moms for their efforts and help them incorporate necessary time for pampering. Self-care might seem like a buzzword to many, but studies show its remarkable benefits for overall well-being and health. To help the 9.8 million working mothers in the U.S. who are suffering from mommy burnout, we've sourced 20 self-care ideas for moms to try on Mother's Day and every day.
Which type of supermom are you? Explore the following sections for tailored self-care ideas to fulfill your unique needs.
Self-Care Ideas for Expecting Moms 
There are many different types of moms, but all deserve some TLC for their efforts. For expecting mothers, it's easy to get caught up in preparing for the new baby, but cultivating your well-being is crucial for a healthy pregnancy. Try some of the following self-care ideas for expecting moms—no expensive spa visits required!
Food is medicine, and when expecting it's important to make sure you are eating healthy and nutrient-rich food. Indulge in foods with protein, vitamins and fiber such as salmon, sweet potatoes, dark leafy greens and whole grains. 
Tip for Celebrating Mother's Day: Treat yourself by ordering these healthy foods from your favorite food delivery service. 
2. Get moving 
As your belly grows, exercise might seem less enticing, but there are many benefits for mom and baby to get moving. Ask your doctor or medical practitioner what a safe sweat session looks like for you based on your fitness level. 
Tip for Celebrating Mother's Day: Treat yourself to a prenatal yoga class or take a scenic walk on the beach. 
3. Set boundaries and say no (guilt-free!)
It's important to learn how to set boundaries as an expecting mother. From strangers reaching out to feel your belly to neighbors offering unsolicited parenting advice, learning how to set boundaries can help you regain control of your pregnancy and feel safe in your body. Plus, saying no helps you grow your self-esteem and cultivate healthy relationships with others.
In an interview with Sam Jones, actress Elizabeth Olsen shares a lesson she received from her father that "No is a full sentence." By just saying no, you are removing any emotional labor or pressures to provide follow-up reasoning for your decision. 
Tip for Celebrating Mother's Day: Practice saying no, without offering a reason for your decision.
4. Explore a clean skincare routine
When expecting it's more important than ever to reduce the amount of toxins that you are exposed to, to protect both yourself and your baby. Some of these items surprisingly might be in your medicine cabinet or makeup bag. Many personal care products contain chemicals, phthalates, parabens, and other ingredients that can be harmful to your health. Read up on the top beauty picks for pregnancy and indulge in pampering yourself with new and safe products.
Tip for Celebrating Mother's Day: Gift yourself a few new clean and safe beauty products. 
Self-Care Ideas for New Moms 
Next up, is new moms! As a new mom, you might quickly brush off the possibility, but with a little planning, these self-care ideas can be done alone or with a baby next to you. By adding in time for self-care you'll notice your hormones stabilize, sleep improve and feel other improvements in your body as well. 
5. Indulge in 30 minutes of unapologetic "me-time"
It might feel selfish at first, but by taking time for yourself regularly, you show your children that you and your interests matter and that their mom is happy and fulfilled. Initially practicing self-care might feel more like self-guilt, but as time goes on you will create a standard of wellness and personal development in your household. 
Tip for Celebrating Mother's Day: Coordinate childcare so that you can have some much-needed "mom-time." 
6. Practice a quick and easy guided meditation
In addition to helping you cope with the demands of motherhood (oh vey!), research has shown that meditation can keep you mentally sharp, improve insomnia and even help you feel more present and attentive when caring for your baby.
Tip for Celebrating Mother's Day: Download a guided meditation app onto your phone such as Calm or use this free guided meditation video that's meant to honor mothers. 
7. Talk to someone who's "been there"
Sometimes venting to another mom can grant you the perspective you need to feel like you aren't alone in this journey. Whether that be your mother, a friend or colleague, talking about the highs and lows of motherhood can be very helpful for your mental health.  
Tip for Celebrating Mother's Day: Dedicate time towards talking to a confidant. 
8. Write in a journal
If you're the kind of person who enjoys writing, treat yourself to some private quiet time to jot your thoughts and feelings down. Journaling can be very therapeutic for moms and help you document a very important time in motherhood. You don't need to share it with anyone, but it could be used as a memento later in life. 
Tip for Celebrating Mother's Day: Buy yourself a lovely notebook or stationary and find time to be alone with your thoughts. 
Self-Care Ideas for Single Moms 
As a single mom, you don't necessarily have the ability to turn to your partner for support so practicing self-care can at times bring on more mom guilt. The self-care ideas we've listed don't require a babysitter, and won't take up much of your time. 
9. Find a virtual support system 
As a single parent, support systems are powerful. Through them, you can talk through the highs and lows of sole parenting and gain support and advice when needed. If you're looking for a new support system consider joining a single parent's group to meet others at a similar stage in life.
Tip for Celebrating Mother's Day: Find a virtual parent's group that you can meet with regularly. 
10. Lend a hand to someone else
Helping out someone else might feel counterintuitive, however, lending a hand to someone in need can give you a "helper's high" that can have major mood-boosting benefits. In addition to boosting oxytocin and dopamine, being kind can also increase serotonin, a neurotransmitter that helps regulate your mood.
Tip for Celebrating Mother's Day: Do an act of service that will make someone smile. 
11. Schedule a remote session with a therapist
There's nothing wrong with asking for help, and as a single mom, doing so might be just what you need to get through this difficult time. Better Health allows you to connect one-on-one with a licensed counselor from the safety of your home.
Tip for Celebrating Mother's Day: Advocate for your mental health by whatever means you feel comfortable. 
12. Wake up before your kids 
Using your kids as an alarm clock is not a mindful way to start your morning. Early risers are more likely to anticipate problems and solve them efficiently as well as have a more positive outlook on life. Wake up before your kids so that you can slip in a workout and properly prepare for the day. 
Tip for Celebrating Mother's Day: Create a morning routine that is rooted in happiness and mindfulness. 
Self-Care Ideas for Working Moms 

Working moms have a whole new layer of responsibility and stress now that many are working from home. Before the pandemic, moms could compartmentalize tasks while kids were out of the house or at school, however now many are left to multitask and juggle many roles simultaneously. To help working moms prioritize time for self-care we've sourced the following ideas. 
13. Schedule time for self-care 
"If it isn't scheduled, it isn't real," TEDx Speaker, Lifestyle Expert and Holistic Nutritionist Rebecca Cafiero says about blocking off time on her calendar for self-care. Whether you schedule self-care during the workday while kiddos are entertained or on the weekends where activities can be more predictable, finding a reoccurring time that works for you is key. 
Tip for Celebrating Mother's Day: Schedule one day a week that you will incorporate self-care. 
14. Listen to an inspirational podcast
If the most you have time for is putting on something in the background while you work or clean, why not try listening to an inspirational or thought-provoking podcast? Follow mom and researcher, Brené Brown's Dare to Lead podcast where she converses with change-catalysts and culture-shifters to feel inspired and courageous during a chaotic climate. 
Tip for Celebrating Mother's Day: Sign up for a workshop or podcast subscription to an inspirational speaker. 
15. Unplug before bed
As a mom, sleep is important, however using electronic devices before bed to check email or read the news can delay your body's natural circadian rhythm or your "internal clock". All the blue light that these screens give off tricks your brain into thinking it should be awake and keep it stimulated instead of letting it wind down with the natural light outside. Unplugging from phones or computers allows your body to naturally slow down and unwind for restful sleep. 
Tip for Celebrating Mother's Day: Make a "no phones after…" rule in your home and make sure everyone follows it.
16. Do a creative or stimulating activity 
Doing something creative can help us connect with who we are on a deeper level and unleash our inner child. Finding "playtime" for busy adults offers a reprieve from the chaos of daily life, and challenges us to connect with a key part of ourselves that gets lost in the responsibilities of adulthood, especially during a crisis.
Tip for Celebrating Mother's Day: Get the whole family involved in "playtime" and do an activity like painting, sculpting or karaoke. 
Self-Care Ideas for Moms Who Are Essential Workers
Our society tends to reward heroic efforts that show that you can continue to perform at the same level while experiencing physical and psychological pressures. Rather than putting on a brave face, we want to equip essential workers with self-care ideas that are valuable for coping. 
To thank those who have worked so diligently for our well-being during this challenging time, we're thrilled to announce that we're currently offering 20% off sitewide for all healthcare heroes. For more ways to take care of yourself, explore the following self-care ideas for moms who are essential workers. 
17. Allow yourself to physically, mentally and emotionally check out 
Sometimes all you need is private time to check out and turn your brain off. Dr. Ben Crocker, medical director and healthy lifestyle advocate, recommends "Intentionally creating 'shutdown' time in your schedule". He says "This can be a healthy time alone, for meditation and quietude." 
Tip for Celebrating Mother's Day: Ask a friend or spouse to go grocery shopping, teach a virtual lesson or take on other tasks to free up time for you to "check out."
18. Lean on others for help 
Many moms might have relied on extended family for help pre-pandemic, but are finding it more different to get the help they need now with social distancing rules in order. To safely allow for that special bonding time between grandparents and children, invite relatives to teach an online lesson once a week. This will free up time for you and help relatives stay connected with your kids. 
Tip for Celebrating Mother's Day: Coordinate a virtual chat or lesson with a relative to free up time for "mom time" and keep kids entertained.
19. Check in with colleagues 
Check in with colleagues (who are and aren't moms) and let them know you're also struggling as a way of normalizing their reactions. Finding meaning in helping others can build a support system and create normalcy in a chaotic time. Laura Boxley, Ph.D., of The Ohio State University, said that "There's not enough yoga in the world to deal with the magnitude of what we're coping with right now." She emphasizes that "It's not just about taking care of ourselves but about taking care of others."
Tip for Celebrating Mother's Day: Coordinate a virtual night with colleagues and splurge on treats.
20. Setting appropriate boundaries with work, family and media
Whether you are feeling overwhelmed, pulled in different directions or simply need to establish foreign boundaries with family and friends learning to say no without an explanation and without providing any emotional labor to the person you're saying it to will be important for separating blurred lines. 
Tip for Celebrating Mother's Day: Host weekly family meetings to communicate new boundaries around family and media. 
With so much going on for moms right now, self-care is not a way to embrace a mindset geared at toxic positivity or let go of your worries forever, but an opportunity to take a small break from worrying and do something that brings you a little bit of happiness. 
Taking care of your family includes taking care of yourself, so this Mother's Day we encourage all supermoms to put on their favorite pajamas or loungewear and indulge in something that makes them feel super!
Happy Mother's Day!