×
Signed in successfully.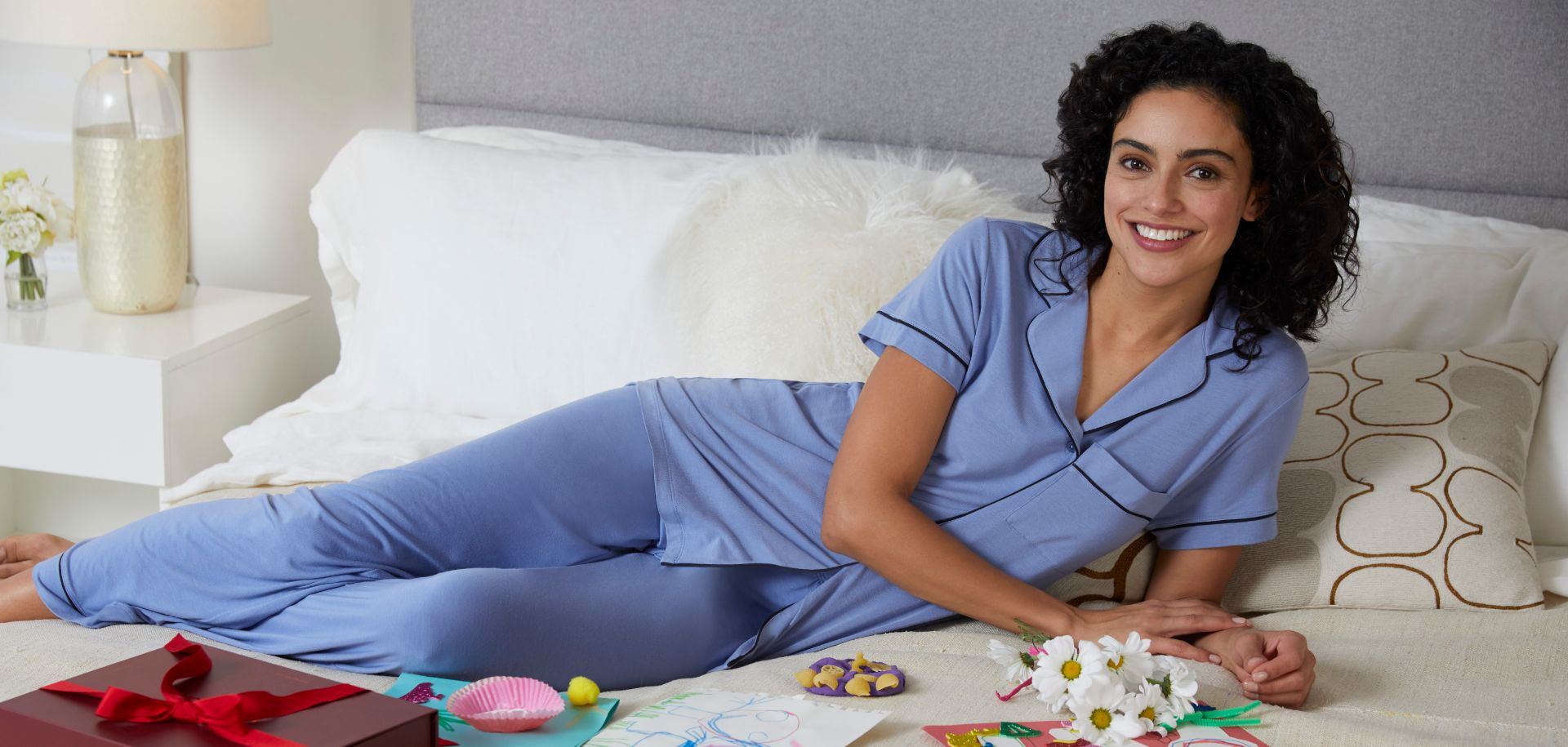 06.01.2020
Why loungewear will make you instantly throw away that old nightshirt
What to wear to bed? While it may seem like a simple question, there are truly countless options these days, for men and women alike. That's thanks to the popularity of loungewear, our favorite fashion trend in ages. 
Loungewear is amazing for the way it combines convenience, comfort, and style in casual pieces that work for sleeping but also well beyond. Think the ease of t-shirts and hoodies, sweatpants and pajamas, but with exponentially more style and sophistication: luxurious fabrics, refined details, and fitted, flattering cuts. 
The idea is clothing that will take you effortlessly from bed to breakfast, maybe even a weekend brunch date with friends, or that you can ease into after work for a cozy evening at home - all while looking far more put-together than you would in old-fashioned sleepwear. 
Not sure if you're ready to give up that old nightshirt yet? Let's take a closer look at what loungewear can do for you and we guarantee, you'll be ready to toss that thing in no time. 
Loungewear makes bedtime more stylish
First, let's talk sleep style. Many old-fashioned sleepwear pieces are meant to provide basic modesty and comfort solely for bedtime and the moments just before and after you wake up. They're not really meant to be seen - and if they are, it's more likely your partner or kids will forgive you as a gesture of love than be impressed by your high style.
This is definitely the case with most nightshirts, which typically feature a loose cut and minimal shaping. Often the only concession to appearances is a print that's more an afterthought than a statement - perhaps a staid stripe or a goofy novelty print. 
With the hectic days most of us have now, juggling family and work responsibilities, a person can be forgiven for opting for ease over style at bedtime. But there's also an argument to be made for treating bedtime as something special - a time to celebrate the day's accomplishments by treating ourselves and those we're close to with care, to help us recharge for the busy day to come. 
With loungewear, what's beautiful is that you don't have to give up comfort for style: you can have both. Loungewear incorporates a touch of class effortlessly into sleep time without fuss or formality. For example, men can combine a sleep pant or jogger with a henley in a bold, fresh palette of colors and a super soft fabric - like Tommy John's Second Skin collection - for a more modern, masculine, athletic-inspired look that's also perfectly cozy. And just as effortless as that old nightshirt. 
Women can opt for a thoughtfully cut pajama shirt dress in a chic shade - try "winetasting" - for a look that's more figure-flattering than yesterday's nightshirts but just as comfortable for catching some Z's.
Loungewear eases you into your day
Loungewear is great for the way it elevates bedtime, style-wise, but what's even better is the way it can help ease you into your day. When you're wearing something stylish, cozy, and functional, there's no need to change your clothes before breakfast - and on the weekends (if we're honest) maybe not before lunch. 
During the work week, instead of jolting yourself out of bed and into your work clothes, let your morning unfurl more casually in loungewear pieces that are meant to be lived in and seen, with details like functional pockets, form-flattering cuts and thoughtful style touches that celebrate life at home. And on a lazy Saturday, when your neighbor drops by unexpectedly or you need to make a quick run to the grocery for pancake ingredients, there will be no need to run and hide, or rush to change.
Loungewear keeps you comfy but also ready to start your day with ease. 
Loungewear reflects modern lifestyles
All fashion is a reflection of culture, and loungewear is no different. Modern lifestyles blur boundaries between work and home, social and professional life, and public and private spheres. We answer emails at 9 pm. We wear sneakers and hoodies to work as often as we do ties and suits. We cultivate social media profiles that showcase our weekend activities and vacations to help boost our professional brands.
Meanwhile, as work creeps into our downtime, we are trying to take R&R more seriously. For many people, that means investing in self-care like fitness, mindfulness, and nutrition, as well as care for those we love, with unplugged, quality time together. 
The loungewear trend reflects the modern blurring of boundaries: social and professional, work and family. It reflects the need for simple, comfortable, casual style staples that let us look good and feel great while we focus on all the more important items on our to-do lists each day.
The bottom line
See? We told you you'd never go back to that old nightshirt. If you're ready to try out the coziest, most stylish premium loungewear around, check out Tommy John men's loungewear and women's loungewear lounge and sleep styles.