×
Signed in successfully.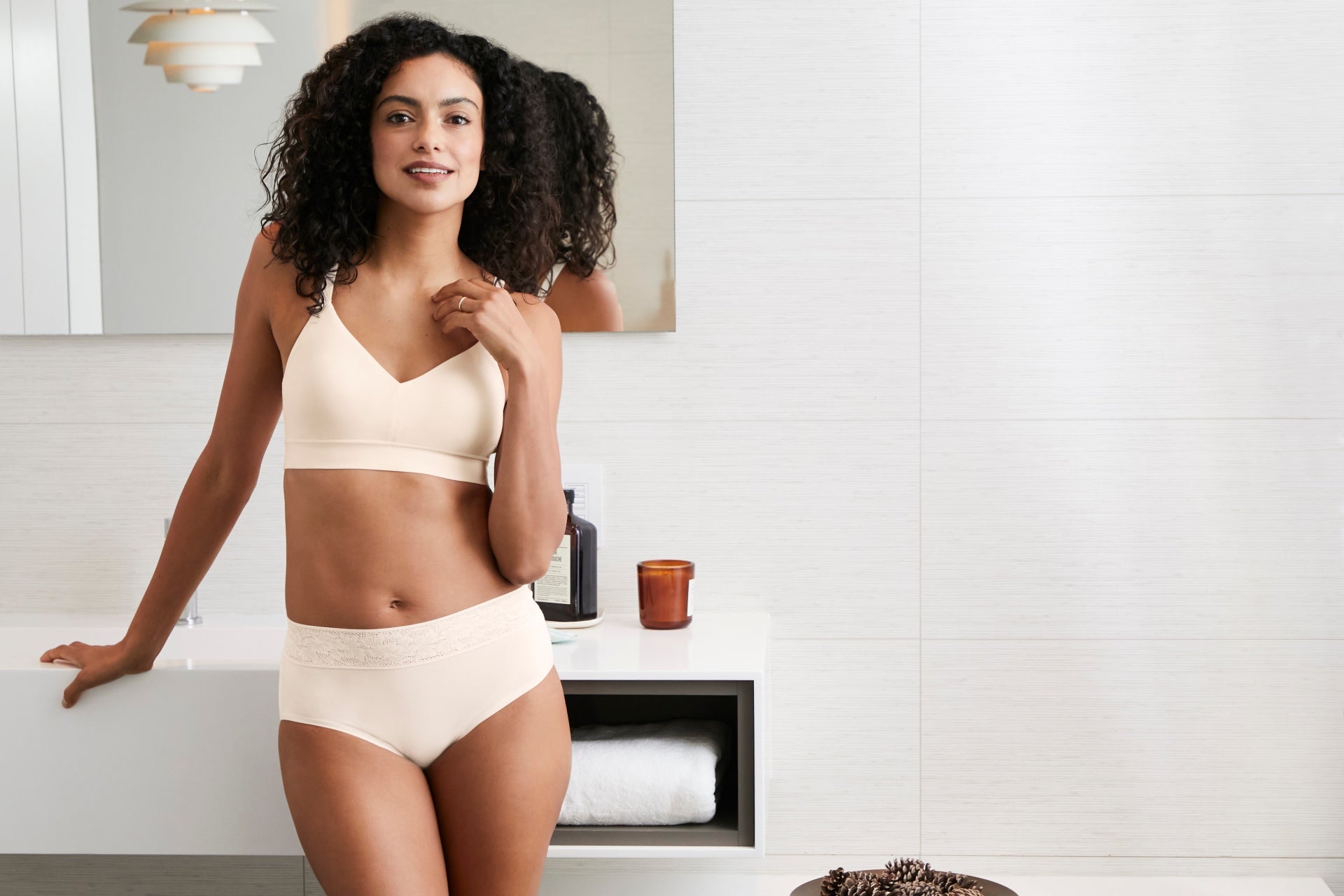 01.20.2021
5 undebatable benefits to wearing a bra while WFH
If you're new to the working-from-home scene, you're probably sharing in the most joyful wardrobe trend of 2020: optional pants. After all, you're only visible from the waist up on a video call. Why not ditch the constraints of professional attire and choose the comfiest clothing you can get your hands on? 
For many of us, getting comfy has meant saying good riddance to everyday bras. But before you swear them off altogether, consider these big benefits of wearing a bra even while you WFH:
1. Your bra helps you transition to work mode
One of the hardest parts of working from home is defining the boundaries between your personal and professional lives. It's just as important to stay on task when you need to be working as it is to leave your emails unread once you've signed off for the day. Getting dressed and ready for work every morning, regardless of whether or not you're leaving the house, is one of a few habits that can help you snap into work mode and start knocking out tasks.
The best part of including a bra in your work ritual is that it works in reverse at the end of the day. When you're ready to stop working, just slide off the bra and mute your work notifications. Just like that, your commute is over. 
2. It can help your posture
Working from home means more time staring at a computer screen - and your posture may suffer from it. The go-to position for many people is to slouch forward and bend down, which adds a lot of strain to your back and shoulders. Wearing some extra support can help lighten the load on your spine and serve as a reminder to keep those shoulders back. While this is especially true for people with a larger cup size, even a small amount of extra weight can add strain to your body. 
You should also take the time to set up a proper work station. Make sure your chair and screen are positioned properly so that your chin is up and your arms are level with the ground. Neck and back pain can make getting through the day nearly impossible, so take frequent breaks to stretch and move around. 
3.It gives you more wardrobe options for video calls
While you can probably get away with wearing casual clothing for the majority of your meetings, there are times when you need to make an impression (at least from the waist up). And you'd be surprised how much impact your wardrobe can have in that department - even on the small screen where clients or coworkers are seeing you. In other words, don't underestimate the power of looking great and feeling confident as you work from home! 
That's where a great bra really shines. It expands your clothing options, making it much easier to choose a striking, beautiful top and power through your next meeting.
4. It makes quick workout breaks easier
As the morning wears into the afternoon, it can be hard to maintain focus when you're working from home. But as little as two minutes of cardio can boost your mood, reduce stress, and increase your focus for up to two hours - and the benefits are even better if you can squeeze in a 10 minute workout. Are you already wearing a bra and stretchy pants? Perfect. All you have to do is stand up, do some jumping jacks, run in place, or throw your own mini-dance party. Now your productivity will spike - and you didn't even have to change your clothes. 
5. It helps you maintain a sense of normalcy 
Some people love to work from home, but most of us are missing those daily connections with other people (and yeah, everything else about the pre-pandemic world). Getting dressed for work - bra and all - helps you maintain a sense of normalcy and reminds you that you're still in control of your daily life. Everyone could use a little more of that, especially when so many of us are struggling to feel connected to our friends and family outside the home. 
The bottom line
If you don't love your bras, it's understandable that you want to ditch them. But why would you slog through life with bras you don't love? Tommy John strives to create comfortable, functional bras that offer full support without restricting your movement
Our bras are crafted from advanced, breathable fabrics that can prevent boob sweat and chafing on even the most stressful days. They're designed for maximum adjustability and versatility, and when you need support, our demi bras offer a comfortable metal-free underwire guaranteed to not dig into your skin. As with all of our products, they are backed with our no-stress guarantee - if you don't love it, the first one is on us.