×
Signed in successfully.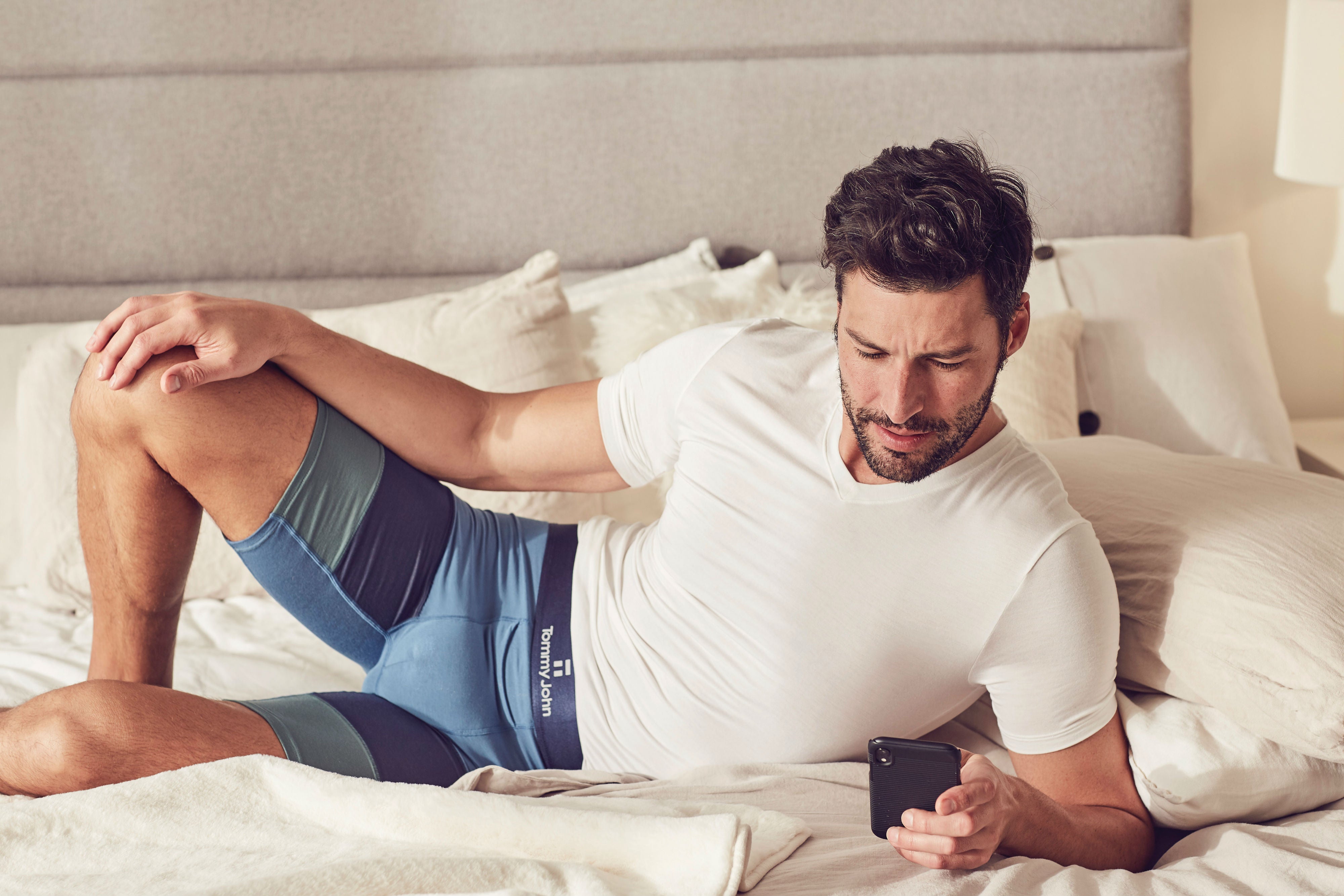 03.09.2020
5 reasons to wear undershirts (beyond the 'classic cool' style)
Every civilized gentleman understands the value of a good undershirt. It's an essential wardrobe staple. And in fact, it's wise to have several styles for different purposes and to tailor your choice of a specific undershirt to different kinds of top layers and needs. 
But hey, we're not born civilized. These days, it's not uncommon for men to skip the undershirt and just wear a button-down. If that's you, take our word for it - you don't know what you're missing.
Enter the Tommy John guide to the virtues of the undershirt. Read on to gain a deeper appreciation of this seemingly humble clothing item. Once you realize how many handy purposes your undershirt is serving, you may even want to expand your collection to new styles, cuts, and fabrics.
Not convinced yet? Read on to discover the top five reasons why undershirts are a key men's style item.
1. Sweat management
Your undershirt's role in sweat management can be broken down into two important functions. First, by intercepting sweat beneath your more formal outer layer, it protects your public appearance from embarrassing visible wet spots in areas perspiration typically accumulates, like your pits and back (not a great look if you're otherwise ready to impress in a high-powered professional setting). 
And by reducing body contact with your more formal outer clothing, your undershirt will also keep those items cleaner and extend their longevity. Fewer pit stains and reduced odor on your button-down shirts and jackets likely means less frequent (and less harsh) laundering, translating to longer lifespans for these more valuable clothing items. 
2. To smooth out your appearance
A proper, fitted undershirt that skims your body will help create a smoother silhouette under clothes. This will make your outer layer lay better and look more flattering. To ensure you get this benefit from your undershirt, opt for smooth, relatively thin fabrics with a bit of stretch (never baggy, bulky t-shirts!).
3. For comfort
Your undershirt can help maximize your daily comfort in a couple of ways. First, an extra layer can help keep you cozy and warm in colder weather and excessively air-conditioned buildings. Don't hesitate to opt for a long-sleeved undershirt if you find you need an extra layer for warmth in wintertime. 
A well-made undershirt in a high-quality fabric is also likely to be far more comfortable against your skin than a dress shirt alone. This makes sense if you think about it: your button-down dress shirt is meant mostly for appearances, whereas an undershirt is meant to be worn as a base layer right against your body. Button-down shirts have more elements that can irritate the skin, like more prominent seams, stiffer, harsher fabric with little if any stretch, and, well, buttons. A good undershirt is designed to be simple, smooth, cozy and comfy. 
4. To ensure privacy
Even if you've got a great chest, no one is looking for a peep show through your dress shirt. Keep your nipples and chest hair from showing through light color or lightweight warm-weather tops by layering an undershirt beneath for fully opaque coverage. 
5. For an easy transition from clean to dirty work
This is more a side benefit of undershirts than a primary reason to wear one, but it does come in handy sometimes. For those moments when you need to unexpectedly change a tire but don't want to ruin your formal wear - or go shirtless on the side of the highway - stripping down to an undershirt can put you in just the right uniform for the job. 
And taking off a button-down when you get home from the office transitions easily when you're wearing an undershirt into a better-suited outfit for chopping vegetables for dinner, washing the dishes afterward, or taking out the trash.   
The bottom line
Undershirts serve an array of practical purposes in a man's wardrobe. To get the best use out of your undershirts, always opt for high-quality fabric that controls moisture well and is soft against the skin. Choose fitted styles in smooth, less bulky fabrics for the best appearance under clothes. (Again - never, ever mistake a t-shirt for a proper undershirt!)
You should also aim to include several undershirt styles in your wardrobe for different seasons and weather conditions, and to coordinate well with different outer layers. In particular, be sure to match the neckline of your undershirt to your top layer to ensure your undershirt doesn't peek out. If you're not wearing a necktie and will leave the top button or two of your shirt undone, a deeper V-Neck is the classiest, most invisible choice. 
Final style tip: It's best to match the color or shade of your undershirt to your skin tone so it all but vanishes under your clothes. For dark skin tones, a black undershirt is best. For light skin tones, go for white. For mid-range skin tones, you can go either way or opt for heather grey.
Check out our essential, precision-designed undershirts to complete your wardrobe!