×
Signed in successfully.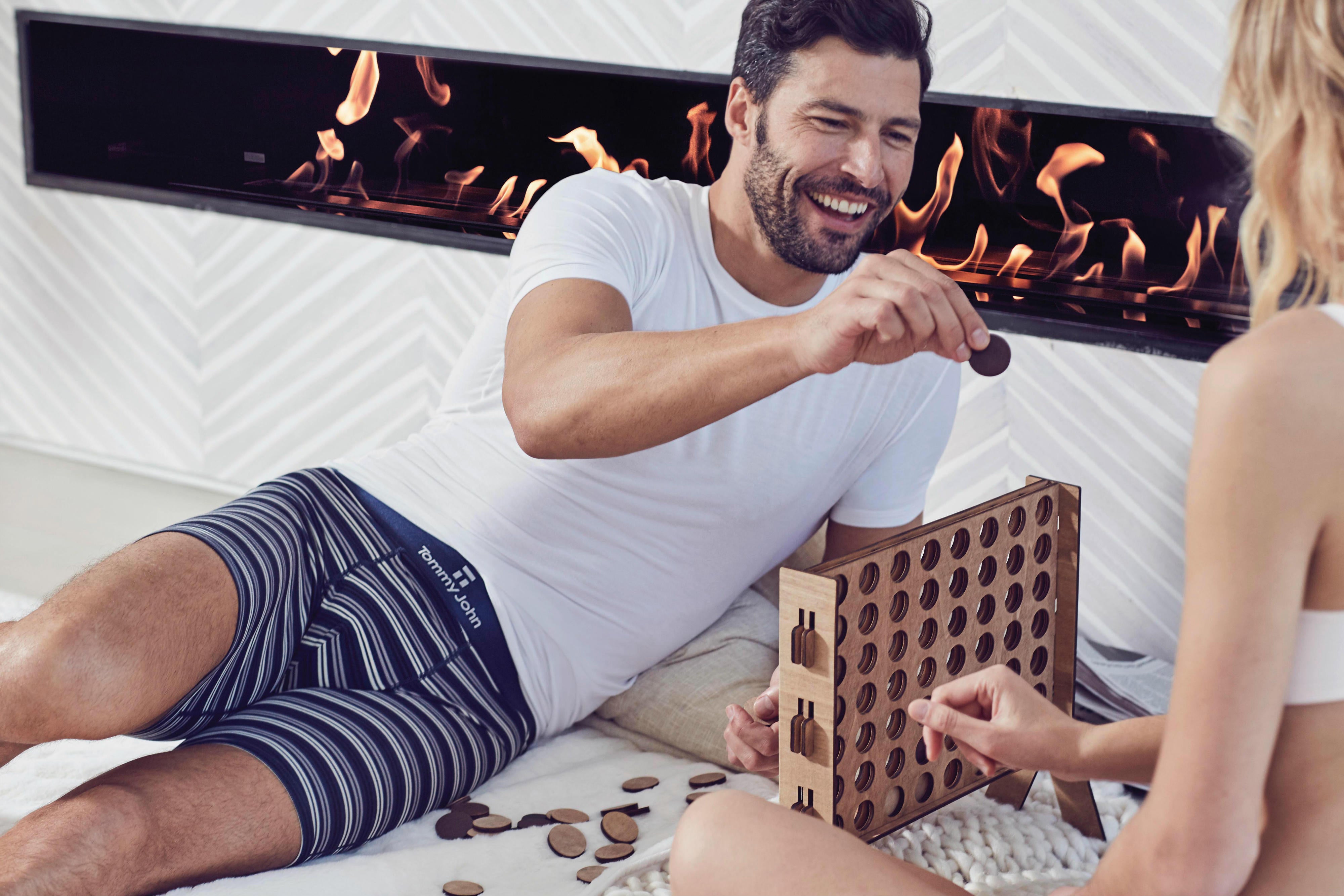 03.16.2020
5 ways boxer briefs are getting smarter & snazzier
There's a consensus these days that boxer briefs are the essential men's underwear cut, the default option that best serves most men's needs, most days of the week. The boxer brief combines the support, comfort, and smooth invisibility under clothes of a brief with a fuller-coverage style most men prefer. 
But as we like to obsess about here at Tommy John, there's a lot more to a great pair of high-end men's underwear than just the cut. So many elements go into making a pair of underwear truly excellent: design, materials, and construction all influence how a garment feels against your skin, how well it adapts to your shape and movements, how quickly it dries, and (of course) how it looks on your body. 
Some of this is a matter of personal preference - whether to stick with tried-and-true colors, for instance, or whether to opt for more assertive or even cheeky prints - but much of it is a matter of quality and thoughtfulness on the part of the brand, pure and simple. The more your underwear maker thinks about your boxer briefs, the less you'll have to - because they'll let you keep your mind on all the more pressing concerns of your day. 
Here are just some of the latest trends in men's boxer briefs that can help take a pair from basic to distinctive. Just like you. 
1. A stay-put, no-pinch waistband
You shouldn't have to choose between a waistband that stays put and one that's comfortable. A well-designed waistband will lie flat and stay in place without pinching, digging, or any irritation. The waistband should also feel smooth and soft, not harsh against your skin. And the construction should offer a smooth transition from the waistband to the rest of the garment, to avoid chafing. 
Finer men's boxer briefs strive for this balance, paying close attention to design, fabric, and fit to keep the waistband comfy, flat, and in the right place through a day's worth of movements (and meals). 
2. Assertive prints & colors 
Men's personalities come in all kinds, and their underwear should, too. Just as men's socks have become more interesting and daring in recent years, better underwear brands now offer a much greater range than just the basic grey, blue, and black. Because sometimes you want to express yourself or your mood with a little more flair down there. 
It's now widely accepted that women aren't the only ones who enjoy having a little creativity and fun in their underwear drawer. If your style is more conservative, prints in classic masculine colors and athletic-inspired color blocks are ways to add interest to your drawers without venturing too far out of your comfort zone. Seasonal patterns often incorporate a wink at humor and let you adjust your look throughout the year. Look for grown-up prints with an air of sophistication to keep it classy while also showing you know how to celebrate and have some fun. 
3. No Visible Underwear Lines
No VPLs - Visible Panty Lines - has been a staple feature of many women's underwear styles for a long time, largely because of the preponderance of more fitted styles of pants, dresses, and skirts in women's wardrobes that don't jibe with bulky underwear.
With more fitted styles in men's pants (and many men simply cultivating their images more carefully in the social media age), "No VULs," or Visible Underwear Lines, has become a practical virtue in men's underwear, too. Look for innovative fabrics that combine a light, airy feel and quick-drying technology with durability and construction for that seamless look. 
4. Innovative fly designs 
Most men have grown up with the vertical fly as an unquestioned standard in underwear design. For many men, any deviation from this trusty standard may seem odd and take a bit of mental adjustment to accommodate. 
However, while the vertical fly does ease bathroom access to the essential equipment, other fly designs allow this as well. And the truth is, the vertical fly is a relic of some now-outdated aspects of culture and men's fashion, made for a time when extra layers of fabric wouldn't be seen beneath more loosely cut pants. Furthermore, the vertical fly generally means less support, meaning you might need different drawers for the gym and the office. 
Some men's underwear has gone so far as to eliminate the fly altogether, allowing for greater support than the vertical fly design. Tommy John's horizontal fly design aims for a perfect balance between innovation and tradition, optimizing the fly rather than eliminating it. This allows for better support and a smoother, less bulky silhouette under fitted pants than the vertical design.
Such innovations in fly design are a smart companion to the consensus around boxer briefs as the go-to style for most men's daily wear, providing all the features a modern man's lifestyle demands: easy access, support, invisibility under fitted clothing and a sleek, comfortable close-to-the body fit.  
5. High-performance fabrics for men on the move
Whether you're a frequent flier or a regular at the gym, lighter-weight fabrics that pack into small spaces, wick sweat, and allow your boys to breathe are a welcome upgrade in better men's underwear. 
Other benefits to these high-tech fabrics are anti-odor and antimicrobial properties, too. And multidirectional stretch allows for ease of movement. 
These fabrics are a natural match for form-fitting boxer briefs with longer leg coverage, keeping you cozy, covered, smooth and supported, without sweating, overheating, or bunching.
The bottom line
The popularity of the boxer brief cut in men's underwear, along with other changes in men's lifestyles and fashion, has led to a host of welcome attention when it comes to men's underwear design. 
Even if you're not an early adopter of every new gadget or trend, there is good reason to avail yourself of the benefits of these underwear innovations. Who doesn't want to look and feel better every day? A great pair of premium boxer briefs is the sensible place to start.