×
Signed in successfully.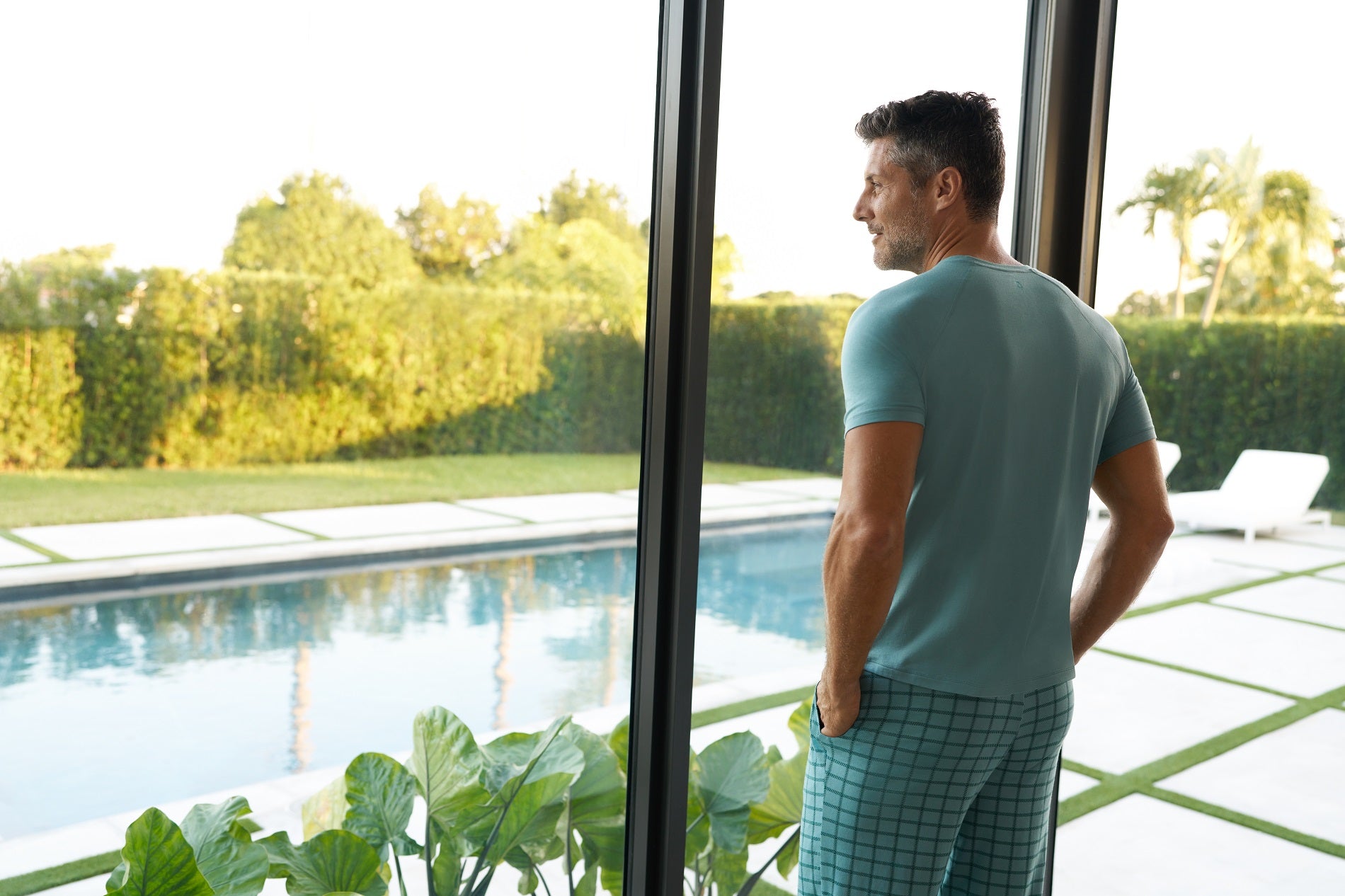 01.27.2023
What to Wear to Bed: Tommy John's Top Picks
Maybe it's time for that first sleepover with your flirty fling, and you're going for that "I woke up like this" look. Or maybe you're staying in with the girls to have a movie-and-popcorn night, and you want to snap a few pics for the 'gram that look cozy and chic.
When you're trying to find that perfect sleepwear balance between comfortable and attractive, you might ask the important question of what to wear to bed.

We have good news: your dreamy aesthetic sleep outfit is only a few scrolls away. Keep reading for your guide to the best styles and fabrics for sleep, plus top picks from Tommy John that you can order today—and sleep better tonight.
The Best Clothes for Sleep: What to Wear & What to Avoid
Whether you opt for a classic pajama set, a pair of boxers and a t-shirt, or your partner's oversized Henley, when it comes to deciding what to wear to bed, comfort should be your first priority. You have your pick of various types of pajamas and sleepwear options—slinky silk pajamas, sherpa-lined sweats, athletic wear, nightgowns, or a good old-fashioned matching cotton set, to name a few.
Deciding between them ultimately comes down to what suits you.
That said, certain garments and fabrics are generally less conducive to sleeping well, no matter your personal preference. In general, it's wise to avoid options that are known to leave you tossing and turning instead of slipping comfortably off to dreamland.
Perpetual offenders of this sort include:1
Clothes that are too tight and constricting
Clothes with scratchy tags, large buttons, snaps, or other clunky closures
Clothes made from low-quality fabrics
Instead, you should look for clothes made from quality, sleep-friendly fabrics that help moderate your temperature. Fabrics like silk, cotton, and linen are top choices in this department. In cold weather, flannel and wool are fairly safe choices for keeping warm but not too warm.
To take the guesswork out of deciding what to wear to bed, keep those tips in mind, and let personal comfort be your compass. Then, peruse the following list of Tommy John's top picks for men's and women's sleepwear to find the night clothes that help you achieve incredible sleep and impeccable style.
#1 Women's Long-Sleeve Top & Pant Pajama Set
Sleepwear doesn't get much more classic than a set of pajamas for women. But the Women's Long Sleeve Top & Pant combo from Tommy John isn't exactly your grandmother's pajama set. These comfy separates offer premium comfort for an aesthetic sleep outfit that promotes restfulness and tranquility all night thanks to the following features:
Cozy, modern fit
Unbelievably comfortable tri-blend fabric
Shrink and wrinkle resistance
And because we know your passion for style doesn't rest even when you do, this cute pajamas set is available in two fashionable colors, Peachskin Pink and Dress Blues.
#2 Essential Short Sleeve Tee & Pant Pajama Set for Men
Pajama sets aren't just for the ladies—men looking for sleepwear sets with the pulled-together appeal of a classic pajama set should look no further than the Essential Short Sleeve Tee & Pant Pajama Set.
You heard it here first: this is the pajama set that every modern man has been looking for. We've done away with the button-downs and collared sleep shirts that have epitomized men's pajamas in the past in favor of a crew-neck tee with a relaxed fit and straight-leg pants for a pair of PJs that are just as laidback as bedtime itself.
But the advantages don't stop there. The tee and pants are made from our special tri-blend fabric that combines three textiles that favor softness, comfort, and just the right amount of stretch:
Spandex
Pima Cotton
Pillow-soft MicroModal
#3 Women's Second Skin Sleep Tee & Pant Combo
If a traditional pajama set isn't quite your thing, you can put together your own sleep set by mixing and matching our Second Skin Sleep Tees and Pants.
The Second Skin Sleep Tee for women is a wonder of sleepwear design and the ideal option for what to wear to bed. The mostly MicroModal fabric content paired with a relaxed fit will have you drifting off as soon as you put it on. (But if you can resist the urge, you'll look bedtime chic for hours.)
You'll love the ease and comfort of features like:
Our innovative stretch fabric
Tagless label
Stay-put waistband
#4 Men's Second Skin Sleep Pant
Sleepwear for him doesn't get much comfier than the Men's Second Skin Sleep Pant. We use our insanely soft stretch fabric for non-restrictive nighttime pants that won't pill or lose their shape.
Adorned with two functional pockets, our Second Skin Sleep Pant is available in three inseam lengths:
Pair our sleep pants with our Second Skin Long Sleeve Sleep Top for an aesthetic sleep outfit that's stylish and sleep-worthy, or switch out the pants for our Second Skin Sleep Shorts, available in five colors and patterns to fit any style.
#5 Women's Second Skin Sleep Short
When the weather warms, and you're looking for a way to stay comfy and cool, the Women's Second Skin Sleep Short is the sleepwear you need.
Featuring all of the hallmarks that make our Second Skin line so popular, like a Stay-Put waistband, ultra-comfy relaxed fit, and pillow-soft MicroModal fabric, these shorts are perfect for lounging around the house, cozying up on the couch, or crawling into bed.
#6 Men's Second Skin Micro Rib Sleep Crew Neck Tee
For many guys, keeping cool at night is a top priority. Unfortunately, too many men struggle to find sleepwear that's breathable enough to keep their body temperature perfectly calibrated to enjoy the deep sleep a healthy body needs.
That's where the Second Skin Micro Rib Sleep Crew Neck Tee comes in. Made from a gentle blend of TENCEL MicroModal and Spandex, this tee is soft, stretchy, and durable. Then, the ribbed texture enhances airflow—so you don't have to worry about working up an embarrassing sweat in the middle of the night.
#7 Underwear Options for Her
Pajama sets, sleep shorts, and tee-and-pant combos are all great options for women's sleepwear. But when you're deciding what to wear to bed, what you wear underneath your sleepwear is just as important as the sleepwear itself.
At Tommy John, we know that the underwear you wear to bed promotes your comfort and keeps you cool and dry (to prevent harmful bacteria that thrive in the damp and dark between the covers).2
For underwear that does just that, check out three of our favorites:
Cool Cotton Briefs –Cool Cotton Briefs are one of our top sellers thanks to their sleep-optimizing combination of a breathable, moisture-wicking, quick-drying fabric, Stay-Put waistband, and cotton gusset to keep you cool, dry, and fresh until the sun comes up. (Or a few hours afterward. No judgment here.)
Second Skin Boyshorts – Our incredible Second Skin Boyshorts are made from 90% MicroModal, guaranteeing a silky-soft feel that caresses your skin and makes them comfy enough to sleep in. But thanks to their durability and non-pilling qualities, they're strong enough to get you through your day and your night.
Second Skin Lightly Lined Wireless Bra – Not all women choose to wear a bra to bed, but those who do deserve one that offers the support they crave without disrupting their sleep. For those women, choose our Second Skin Lightly Lined Wireless Bra. Wireless support, our ComfortStrength™Band–Second Skin fabric, and fully-adjustable straps combine to create a supremely comfortable bra. (Warning: you may never want to take it off.)
#8 Underwear Options for Him
Some guys like to sleep in pajama pants, while others prefer the unrestrained quality of a loose-fitting t-shirt and boxer shorts. But then again, some guys are just as happy to slip into a pair of their favorite boxer briefs before slipping between the sheets.
At Tommy John, that third type of guy is near and dear to our hearts. After all, our company started spurred by the passion for making men's fashionable, well-fitted men's undergarments.
And even though we've expanded our focus over the years, we haven't forgotten our original vision. We're still committed to redefining comfort, fit, and fashion regarding men's underwear, which is why we can confidently say that all of our trunks and boxer briefs are guaranteed to offer all three priorities.
Our top picks and perennial best sellers include:
For the Best Sleep, Sleep in Tommy John
At Tommy John, our mission has always been to craft undergarments, loungewear, and sleepwear for people who are just as intentional about the clothes they wear to bed as the clothes they wear everywhere else. That's why we go the extra mile to ensure that our sleepwear collections for men and women help you get the rest you deserve.
Sometimes, the only thing standing between you and a good night's sleep is the clothes you're wearing—but they don't have to. From fabrics that promote breathability and temperature regulation to bed-friendly features like tagless designs, comfortable waistbands, and relaxed fits, choose sleepwear from Tommy John.
Sources:

Mattress Advisor. What to Wear to Bed for a Great Night's Sleep. https://www.mattressadvisor.com/what-to-wear-to-bed-for-a-great-nights-sleep/
Summer's Eve. Should Women Wear Underwear to Sleep? https://www.summerseve.com/blog/should-women-wear-underwear-to-sleep