×
Signed in successfully.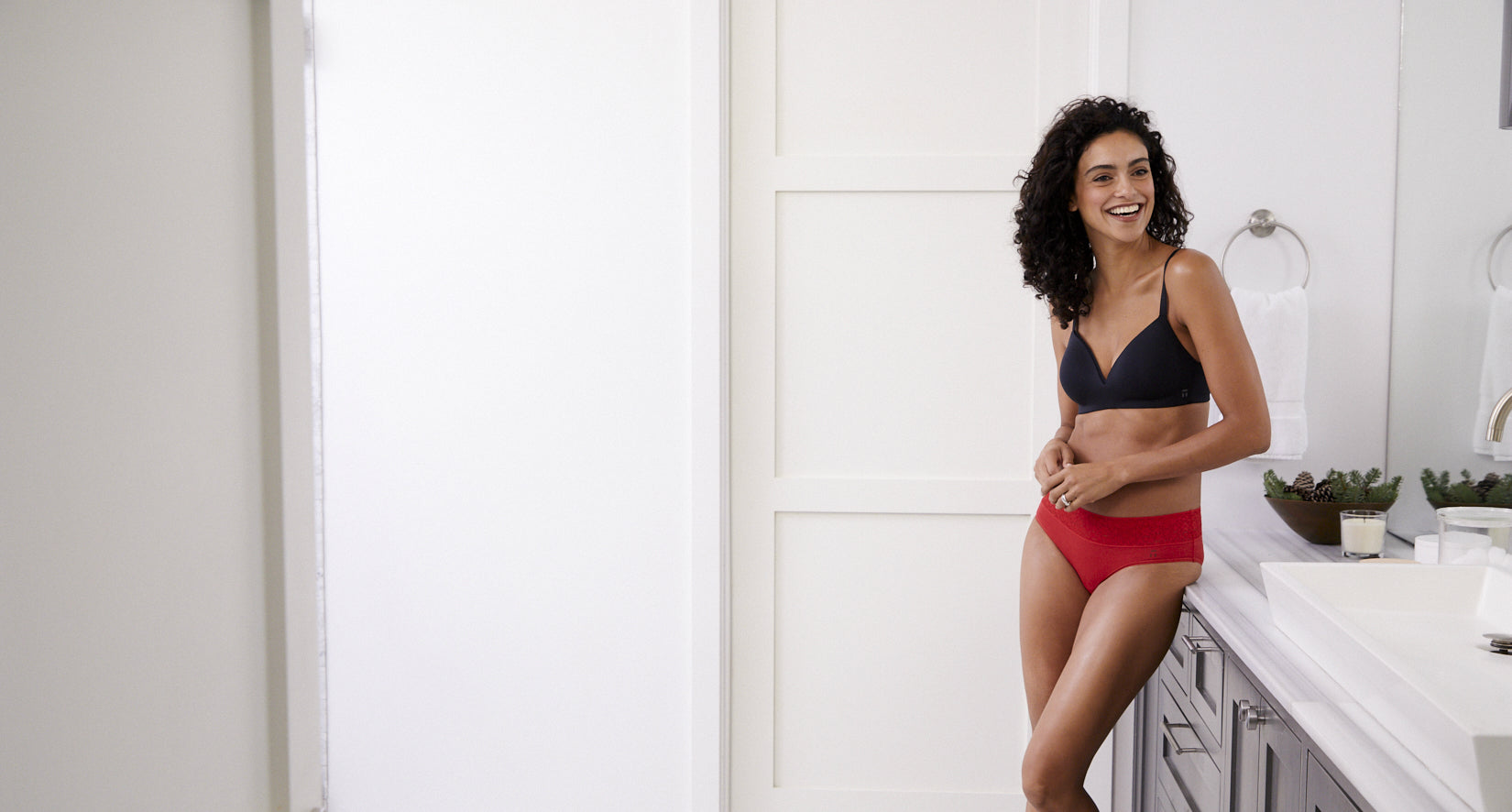 12.02.2019
Bra vs. camisole: How to choose for your outfit
Camisoles and bras are decidedly different garments but the functions these staple items serve in women's wardrobes overlap in a number of ways. 
There are times you might consider wearing a camisole instead of a bra and other times when you want a bra instead of a camisole. There are also moments when a bra plus a camisole is best. And there are some good opportunities to take advantage of the increasingly popular combo option — the camisole with a built-in bra. 
There are so many varieties among camisole and bra options now that the possibilities seem endless, and can also be a little bewildering. In a moment we'll break down all the useful roles each item can serve as part of women's wardrobes. But first, let's back up a step and talk definitions. 
What's a camisole, anyway?
What makes a cami a cami, as distinct from, say, a tank top? 
When most people think of tank tops, they think of outerwear. A tank top is a piece of clothing meant to be seen by others, usually in a casual setting, outside the home. Tank tops are defined by their sleevelessness but their straps can range from thin (the spaghetti strap) to thick. Their necklines vary, too.
A camisole is traditionally seen as a kind of undershirt, creating a smoothing or frictionless layer or adding warmth underneath formal clothing or in cold weather. Camisoles typically feature spaghetti straps.
Camis can be loose, body-skimming, or entirely form-fitting. Most, these days, are probably the latter, made with materials like Lycra and Spandex. Most women wear camis as undershirts to smooth and provide warmth under professional attire, or as casual tops that are convenient for around-the-house wear. They also meld well into the "athleisure" trend for weekend errand-running when paired with a loose sweatshirt or stylish hoodie to provide more torso coverage.
However, both the looser and more form-fitting camisole varieties have made appearances as dressier outerwear at different moments in fashion history. Even when they appear visibly in public, though, camisoles' style power is often linked to their typical status as an undergarment. Think edgy-looking black camis with lace details of the 1990s, or sleek, silky looser-fitting camis worn today as a minimal-coverage evening look. 
The Bra vs. Cami breakdown
The bra and the camisole may seem like very different clothing items. But depending on your body shape and preferences, these two items can serve overlapping functions. Let's break it down to get a little clarity:
Bra functionality
Here are most of the reasons women might give for wearing a bra:
Breast support
Nipple coverage
To create a certain shape or silhouette underneath clothing

To provide a flirty or casual fashion element visible with the outer layer of clothing (as in many new, more youthful styles of bralettes with decorative straps and lace on the back). 

 
Camisole functionality
Here are some of the functions the simple cami can serve:
Warmth during cold weather, or in excessively air-conditioned offices

As a layering tool to pair with open-knit sweaters, mesh or other see-through tops.

To provide a smoother draping of clothing over the body by providing light shaping and obscuring pinches and bulges (camis are great for reducing muffin top!)

Some nipple coverage (more so than going braless, but not as much coverage as molded-cup bras). Pairing a cami with a seamless bra beneath can provide maximum coverage and support for bustier women.

For more coverage than a braless look, when women prefer to go without — a camisole can better obscure the precise shape of the breasts and body beneath clothing than would otherwise be the case without a bra.

To provide a lightweight, visible feminine layer beneath otherwise masculine-style clothing items, for example, with a blazer and trousers. A bit of silky or shiny fabric, lace detailing, a splash of eye-catching color, or simply a contrasting color can soften the look of professional suit styles that originate in menswear. Plus, combining masculine and feminine elements in a single outfit is a tried-and-true fashion strategy. 

To provide a more modest neckline under dresses or tops with plunging V-necks or with large gaps between the neckline and chest during movement (small-breasted women may have this problem when wearing sweaters or wraparound dresses with deep V necks; larger-breasted women may want to keep deep cleavage under wraps). 

As cozy sleep and loungewear.

As slightly edgy outerwear for evening or club styles. Newer cami styles, often in boxier cuts and dressed-up fabrics like silk or velvet are meant to be seen in public, but bare lots of skin. They look feminine and pretty when tucked into high-waisted bottoms. More form-fitting cami styles, when used as outerwear, are best paired with looser-fitting bottoms, like an A-line skirt, for a balanced look. For women who aren't worried about their nipples showing, these styles can be worn without a bra. 

The above styles of cami can also be great for the office when paired with a warmer and more modest layer like a jacket or cardigan and tucked into a pencil skirt or trousers. A regular bra can be worn beneath to provide support and hide the nipples, as long as the jacket or sweater worn with the outfit will stay on throughout the day, to hide bra straps. 

 
The Bottom Line
Camisoles with built-in bras are a perfect option for women who want some support without the bulk of multiple layers of clothing (bra plus separate cami). Rock these under overalls for a cute, simple summer look, or anytime you'd like the look of a cami with added chest coverage and support. 
A cami with a built-in bra can make this top just right for casual weekend activities. And for larger-breasted women, a bra plus a cami with a built-in shelf-style bra can provide lots of comforting support.
Tommy John's Second Skin Stay-Tucked Camisoles are ideal as office-worthy base layers, with extended lengths that mean they stay put — even in the back, even when you move. No bunching here! They also boast soft, breathable, body-hugging Second Skin fabric that never pills or fuzzes, and come with or without a built-in shelf bra and removable pads. See what we have to offer!