×
Signed in successfully.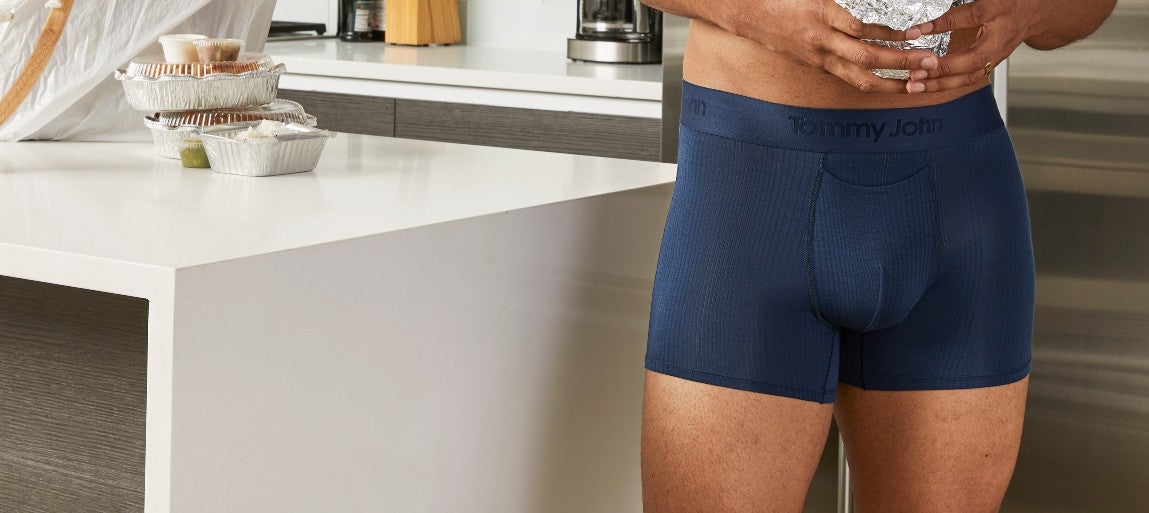 10.12.2020
Men's trunks: 5 things to know before you buy
Curious about the trunk? If you don't already know this style, it's time to get acquainted. This relative newcomer to the world of men's skivvies combines some of the best attributes of other underwear styles to create a well-balanced, versatile, and on-trend option.
Given those strengths, it's not surprising that this men's underwear cut is getting very popular, very quickly. But it's also underappreciated - including by many guys who wear trunks all the time. How is that possible? Well, lots of men don't even realize that their go-to cut is in fact the trunk. 
There's a lot of confusion around terminology here, so let's get clear on what we're talking about before we dive deeper.
What makes a trunk?
The trunk is basically a boxer brief with a shorter inseam. Like the boxer brief, the trunk combines the form-fitting support of a brief with the fuller body coverage of a boxer. But while the boxer brief traditionally extends all the way down the thigh, the trunk inseam is significantly shorter. (Tommy John's full-length Boxer Brief has an 8" inseam, our Trunks feature a 4.5" inseam.) 
Plenty of men who wear trunks just call them boxer briefs. If you happened to grow up in the era of boxers vs. briefs, then this makes intuitive sense - anything that combines the form-fitting nature of the brief with the leg coverage of a boxer is a boxer brief, right? 
Again, not quite. If you want to get technical about it - and at Tommy John we tend to do that about all things underwear - the shorter leg length is really its own innovation. So this cut has earned its distinct name: the trunk.
5 things to know before you buy trunks
If your current go-to underwear cut is the boxer brief, the shorter inseam length of the trunk may seem like a minor difference. But the truth is the difference in thigh coverage makes the trunk a distinct option with its own special place in your underwear drawer - and life. 
Whatever underwear cut is your go-to choice right now, if you're interested in trying the trunk, here are the five things you need to know before buying.
1. Trunks keep you cool
You adjust the rest of your wardrobe to fit the season. If your underwear drawer doesn't offer its own flexibility for maximum comfort in different weather conditions, it might be time to expand your collection. With their shorter legs, trunks are obviously a breezier option than boxer briefs. 
So whether you live in a warmer climate, need some options better tailored to summer heat, or you just tend to overheat easily, trunks will keep you cool and dry in any situation.
2. Trunks are trendy
Trunks can keep you cool in more ways than one. This cut is a youthful and of-the-moment option, without being overly flashy. Trunks are a great choice for men of all ages to demonstrate they're up-to-date on current fashion trends. A trunk in a bold, masculine print or a classic color like navy or black balances trend with tradition perfectly, for a look that says you're in-the-know without getting too showy.
3. Trunks work well for moderate exercise
With their form-fitting shape, trunks offer as much support as a brief plus a bit of leg coverage to boot. This makes them suitable for moderate exercise. For an intense workout, many men prefer full-length leg coverage for greater protection against chafing and irritation. But if you're the sort of guy who bikes to the office and always opts to take the stairs, trunks might be the perfect choice for your active everyday lifestyle. 
4. Trunks can make you look taller
Exposing more of your leg creates a longer, uninterrupted vertical line that can make you look taller. So whatever your current height, if you'd like to emphasize that visual dimension, know that the shorter the inseam the more pronounced the effect will be. Trunks are a great choice if briefs aren't your thing and a square cut (with a shorter inseam than a trunk) still leaves you feeling a little too exposed. 
5. Great for dates
Trunks are a great choice for date nights when you want to feel confident and look well-styled - but not like you're trying too hard, either. Trunks let you show off a little thigh without being too attention-grabbing or highly exposed. This cut is a perfect blend of what you're likely aiming for in your whole date-night outfit: bold, assertive, and in touch.
The bottom line
There are plenty of reasons to love this cut. Overall, trunks are a great everyday option because of the way they balance practicality and style. They provide all the support you need for an active lifestyle, a smooth look under fitted pants, and moderate thigh coverage that works well for most seasons and situations. 
For next-level trunks in a range of luxe fabrics, bold and classic designs, and no-budge comfort, check out Tommy John's amazing trunk selection.