×
Signed in successfully.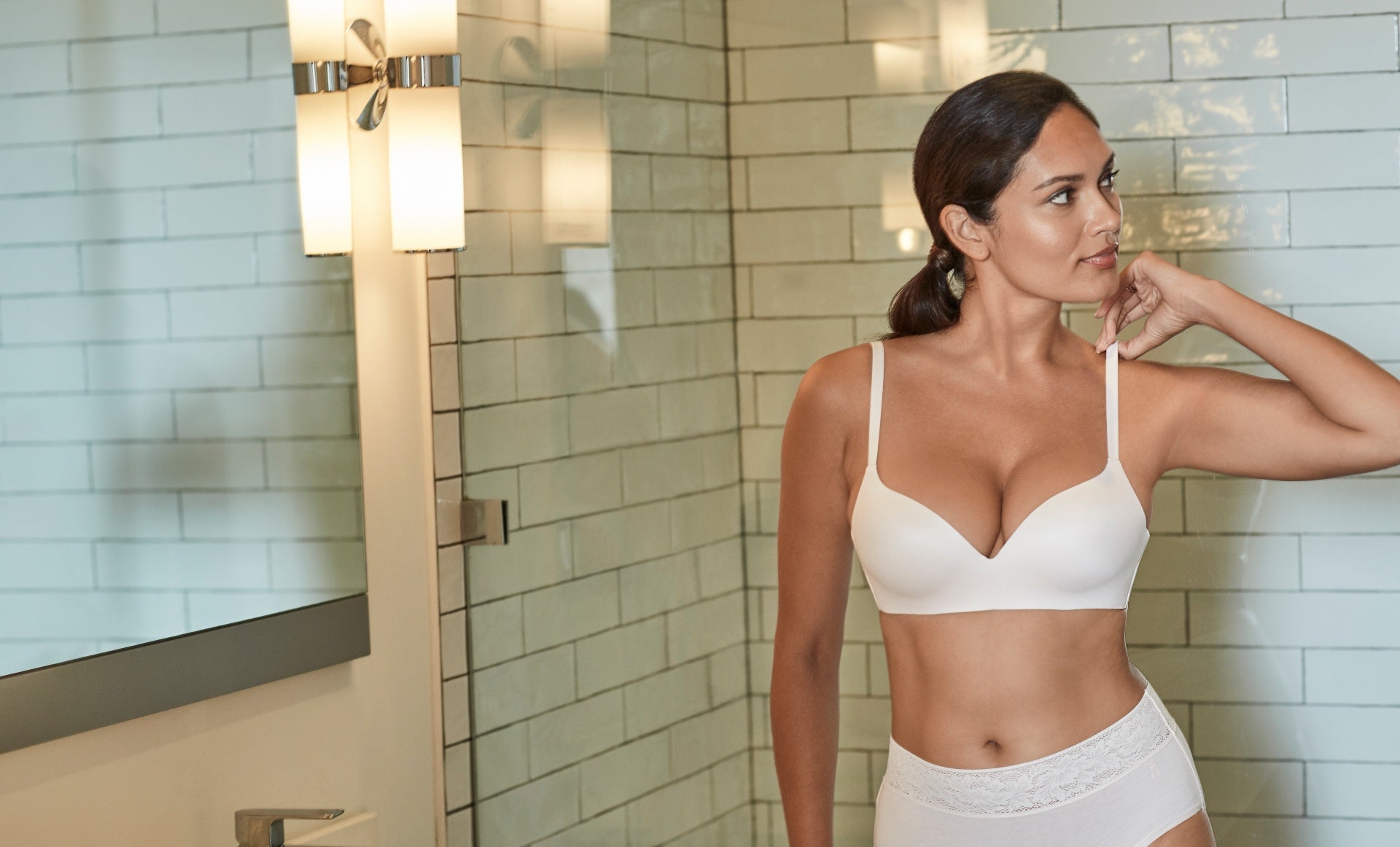 04.30.2021
Wired vs wireless: Which bra suits you best today?
Finding the perfect bra is like hitting a moving target. Your body changes day by day. Your fashion needs vary with the season. And bras themselves may change shape as they age. 
But as you get dressed in the morning (and continue your quest for the perfect bra) one question may loom larger than all the rest: underwire or wireless? Let's take a closer look at the pros and cons of each style.
The pros of wearing an underwire
The wired bra (aka underwire bra) takes its name from the rigid wire, often made of metal, that lines the underband to support the cups. Wired bras offer unrivaled lift, support, and shaping. They can reduce back and shoulder strain for those of us with larger chests when properly sized and adjusted. And they can also support better posture, which is crucial for anyone spending their day hunched over a computer. 
Unfortunately, wired bras have earned a bit of notoriety for being uncomfortable. They may pinch and squeeze into your skin, and in some cases, the wire can rip through the fabric and cause scratches. Of course, when they are sized correctly and given good bra care, underwire bras can be perfectly comfortable. 
Still, you don't need to use a rigid piece of metal to get the support you need. Tommy John has crafted an ouch-free underwire demi bra that offers flexible support without any metal. The Lightly Lined Demi Bra has fully adjustable, convertible straps that offer gentle support without digging into your skin. 
The pros of going wire-free
Many people prefer wireless bras because they offer a more comfortable, less constricted feeling. Smaller breasts may not need the extra support and boost of an underwire, and may not need the same amount of lift under a form-fitting top. A supportive wireless bra may also be more comfortable during times of the month when your breasts are more tender, and they tend to fit better for women with different sized boobs.
On the other hand, because a wireless bra is softer and more flexible, it may not provide the same structure and lift. If you have to move a lot throughout the day, you could end up feeling a little sore from the bouncing, and you may not be able to maintain the same posture that an underwire can help you maintain after a long day. 
Tommy John offers two supportive demi bras that let you go wire-free. Our Lightly Lined Pullover lets you skip the hassle of the claps while still offering fully adjustable straps, while the more traditional Lightly Lined Demi features four clasps for a more flexible fit and convertible straps so they can stay discrete under your sleeveless dress. 
So which bra is right for you today?
If you're wearing a tight top and you want to adjust your silhouette, or you want to lift and separate your breasts, the support of an underwire is probably best. A wired bra is also a good choice if you have to move a lot throughout the day and want to reduce pain from bouncing - especially if you're wearing a low-cut top that won't let you get away with a hardwire-free bralette. 
On the other hand, if you're feeling sensitive, need to feel a little less restricted, or if you're going for a more informal look, the wireless bra can offer plenty of support. They can also be much more comfortable on lazy days when you're only getting off the couch on an as-needed basis.  
Ultimately, choosing the right bra for your day comes down to what you want to wear and how you feel when you're wearing it - and a high-quality bra should wear like a dream. Whatever bra you choose to wear today, it's crucial to let your bras relax between uses to help them last longer. If you have a bra you love enough to wear every day, buying another one or two just like it will help you get a lot more life out of them.
The bottom line
Your bra is there to make you happy. It shouldn't feel like a chore to wear! If you're fighting a constant battle with your underwear drawer, it's time to trash your old, inferior bras and invest in some you truly love to wear. 
At Tommy John, our bras are crafted from soft, breathable material to maximize comfort and minimize boob sweat. We've carefully designed the straps and bands to create durable bras that stay in place without digging or squeezing, so you can look great without feeling constricted. As always, shopping with Tommy John is risk-free, because if you don't love your first new bra, we'll refund your money or replace it with something you do love.